CONTACT US:
TechExecs Network - National Chapters
11569 S Highway 6 #777
Houston, Texas 77498
Email: National@TechExecs.Net

About TechExecs Network
Founded in 1999, The TechExecs Network™ (www.TechExecs.Net) continues to advance the careers of the next generation of IT Leadership, promote connections and advocacy for the Information Technology community as a whole. TechExecs Network™ charts the latest industry trends by featuring "Best of Breed" resources for key decision makers, promote networking and partnership amongst technology solution providers and industry buyers both online and in-person. TechExecs Network™ events are privately held and restricted. In order to ensure cohesiveness, relevant discussions and professionalism of the group, approval and admission our events is at the sole discretion of TechExecs.
WHAT WE DO:
We host Thought-Leadership luncheons and dinners attracting top Information Technology Leaders, Speakers and Attendees.

We are deeply connected with CIOs and IT Management Professionals from corporate enterprises throughout 27 cities in the US.

We help design exciting and memorable functions that create great meeting opportunities!

For our Sponsors, we host exciting Quarterly Networking Social functions, Bi-Annual CIO Panel Forums, and Private Functions with CIOs and IT Management Professionals that help promote your brand awareness.

We showcase Business Solutions to Enterprise-Level Corporate Buyers via our online channel & in-person Showcase Happy Hours.

We may serve as Ambassadors to invite and help drive qualified IT Attendees to your events.

We add value by aligning our connections and resources to help you achieve your Demand Generation goals.

We are a National Association for CIOs, Corporate IT
Management and Senior Technology Executives
hosting local chapter functions and private events
across the United States of America.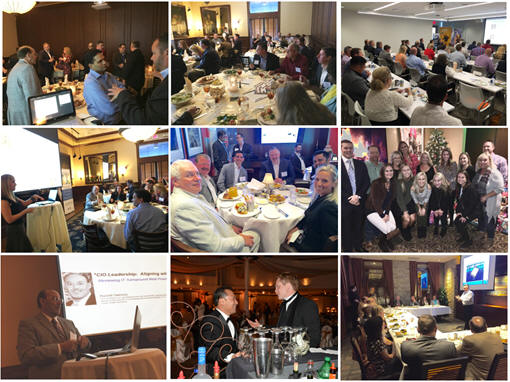 See More Pictures Click Here or visit our Facebook Page