* South Florida includes: Miami, Ft. Lauderdale, West Palm Beach and Tampa.
* Other Cities include: Oklahoma City, Las Vegas, Honolulu, Portland, Cincinnati and Columbus.
TechExecs Network - Events for CIOs and IT Management Professionals
Founded in 1999, The TechExecs Network™ (www.TechExecs.Net) continues to advance the careers of the next generation of IT Leadership, promote connections and advocacy for the Information Technology community as a whole. TechExecs Network™ charts the latest industry trends to feature "Best of Breed" resources for key decision makers, promote networking and partnership amongst technology solution providers and industry buyers both online and in-person. TechExecs Network™ is a subsidiary of Techxans Inc. and our events are privately held and restricted where approval and admission to the events is at the sole discretion of TechExecs in order to ensure cohesiveness, relevant discussions and professionalism of the group.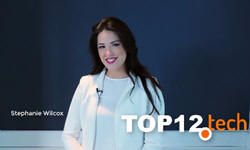 Stephanie Wilcox
Host of TOP12.Tech
Stephanie was born and raised in New York City, Stephanie has been an aspiring young entrepreneur since the days of college. She has help launched several marketing organizations, headed up a charity and was the Runner Up of Miss New York. Stephanie's contribution at Top12.Tech is serving the role of a featured interviews host and showcase announcements. Come see Stephanie at one of the upcoming Top12.Tech Showcase Events in a city near you.